Did you know that more than 60% of furniture shoppers prefer brands offering AR? With the Indian e-commerce market for furniture and homeware expected to reach $2 billion by 2024, the consumer expectation in digital shopping is growing day-by-day.
The pandemic has disrupted every aspect of consumer lives, including the way they explore and shop for products. With online shopping being the new normal, consumers want brands to go above and beyond the standard eCommerce experience. Retailers need to embrace new technologies like AR to keep up with growing consumer expectations. Since the beginning of the pandemic, the industry has witnessed a 600% increase in AR usage, which shows a significant appetite for immersive solutions.
AR is certainly one of the key drivers for sales in 2020 for many retail businesses, which helps consumers visualize products right at the convenience of their homes and build a strong emotional attachment with the brand and product. Retail giants like IKEA, Wayfair, and Lowe's have already invested in AR realizing its potential early, to stay ahead of the competition and to attract more visitors to their online stores and websites. 
Many furniture businesses, from small to medium-sized, still assume that access to AR technology is not available due to high costs and implementation time. However, the costs of incorporating AR have become considerably lower, so has implementation and testing time.
AR in the furniture business can
       

Personalize shopping experiences

       

Boost engagement and retain customers

       

Entertain customers and power marketing
68% of consumers said they would want to spend more time at online stores if it included AR technology 
40% of consumers are ready to buy expensive products with virtual try-on experience. 
72% of customers purchased products they hadn't planned because of AR experience. 
45% of consumers say AR saves them time and finds it helpful and positive. 
11x times consumers are prone to buy a product visualized using AR tech.
With AR as a useful shopping tool, consumers can
How AR can help grow your furniture business?
Powerful Presentation – Brands can present their products visually and interactively with AR.
Stand-out from the competition – Offering innovative shopping experiences that attract customers, helps brand experience remain exclusive and stand-out from the competition.
Risk-free trials – The risk of product return and logistical expenses can be minimized with the informed purchase decision. Market statistics indicate a 23% reduction in product returns. By enabling try-before-buy with AR, build trust and confidence in your brand.
Creative marketing opportunities – AR offers innovative ways to promote the brand, offer product information, present new products and much more with immersive 3D experiences that can attract more customers.
AR has huge potential in improving customer experience and sales not just in the home furniture segment, but also in the commercial furniture segment. It can be the most efficient solution for furnishing commercial spaces, thereby speeding up the sales cycle. Using AR, sellers can simulate the office, meeting room, or even an entire shop virtually in 3D making it easier for customers to understand the design. With AR, customers can try-on different furniture models in real-time and customize them, thus creating convenient and personalized shopping experiences.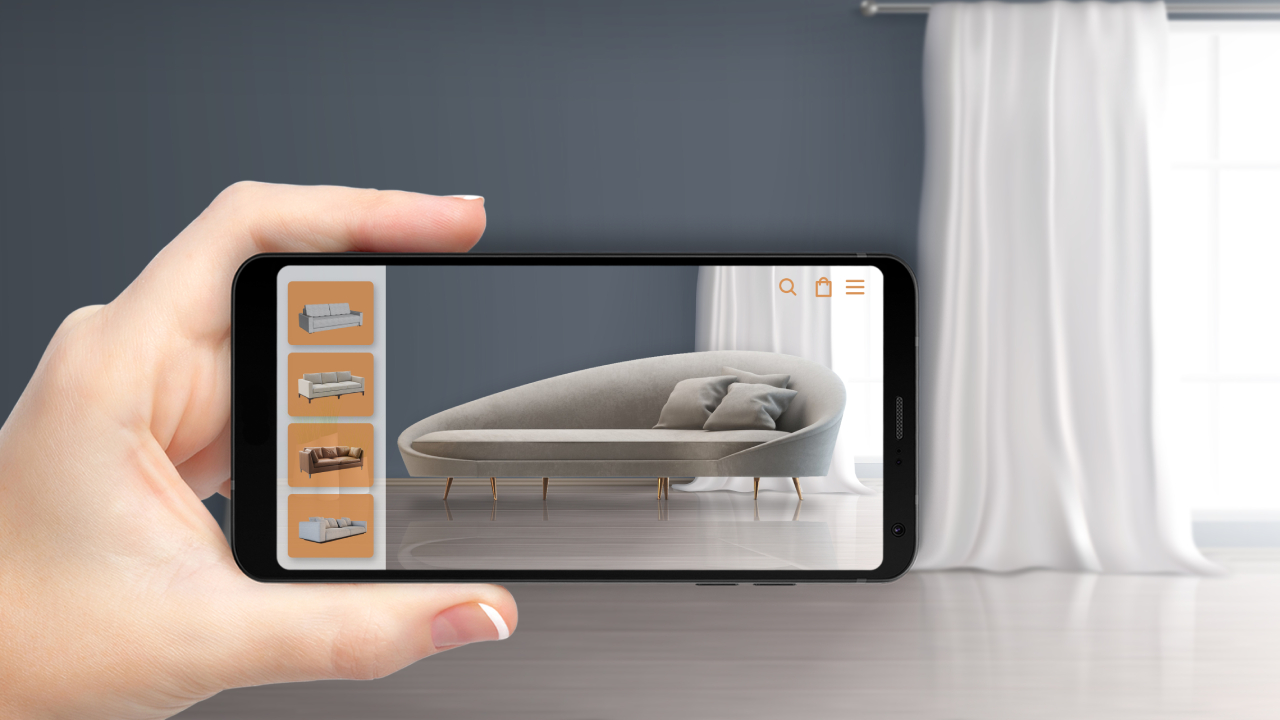 AR is an on-demand solution that can enhance the retailer's current offering, boosting sales while decreasing product returns and ultimately costs. This way, AR is proving to be a huge benefit for e-Commerce. Using AR, consumers can visualize and try-on furniture collections using their smartphones in a real-world environment. AR offers an efficient, enjoyable shopping experience in a whole new way to transform e-commerce. As the limitless potential of AR unfolds, technology is getting widespread and every day more brands are adopting it to seize attention and grow online.