Augmented reality (AR) and virtual reality (VR) is transforming the way patients and doctors interact in pharmacology. AR/VR is helping to gain safety and efficiency in pharmacology, from both the provider and the patient sides. Medication adherence is one key factor for successful treatment. Non-adherence to medication causes 30%-50% of chronic disease treatment failures, and 125,000 deaths per year according to The Centers for Disease Control and Prevention. Non-adherence is primarily due to the limited knowledge of medicine interaction with the body, dosage, and frequency of medicine. AR/VR improves patients' perceptive and retention of important drug information by providing 3D models of medication mechanisms and how they interact with the body.
AR/VR for e-detailing and effective marketing
In the new normal world, there are restrictions in place which limit medical representatives to visit the doctors in person and offer product demos. Medical representatives have already adapted iPads or tablets as their product demonstration tool, but the question remains whether its capability is been used to the full extent. At present, there are more than 50,000 iPads deployed in India for medical representatives, while most of them are still using these for video or slide presentations. An interactive iPad or smartphone application and creative augmented concepts are effective tools that provide greater visibility to the product and brand.  
With AR, creative content that can be easily loaded and experienced in a smartphone or an iPad, companies can power their marketing and sales. AR technology can transform the scientific message into a higher meaning 3D content. AR for visualizing mechanism of action (MoA) can help to achieve demos in a clear, concise, and engaging way. 
Using AR/VR the scientific messaging and mechanism of medicine can be made easily graspable.  It provides medical representatives the means to explain the mechanism of action of drugs to doctors more effectively. Due to medical representatives incorporating augmented MoA concepts in their smartphones/tablets, doctors can understand more easily the science of drugs. Thus, it is not only a pioneering visual assist but a solution to provide the medical representatives with additional credentials and orientation to the product.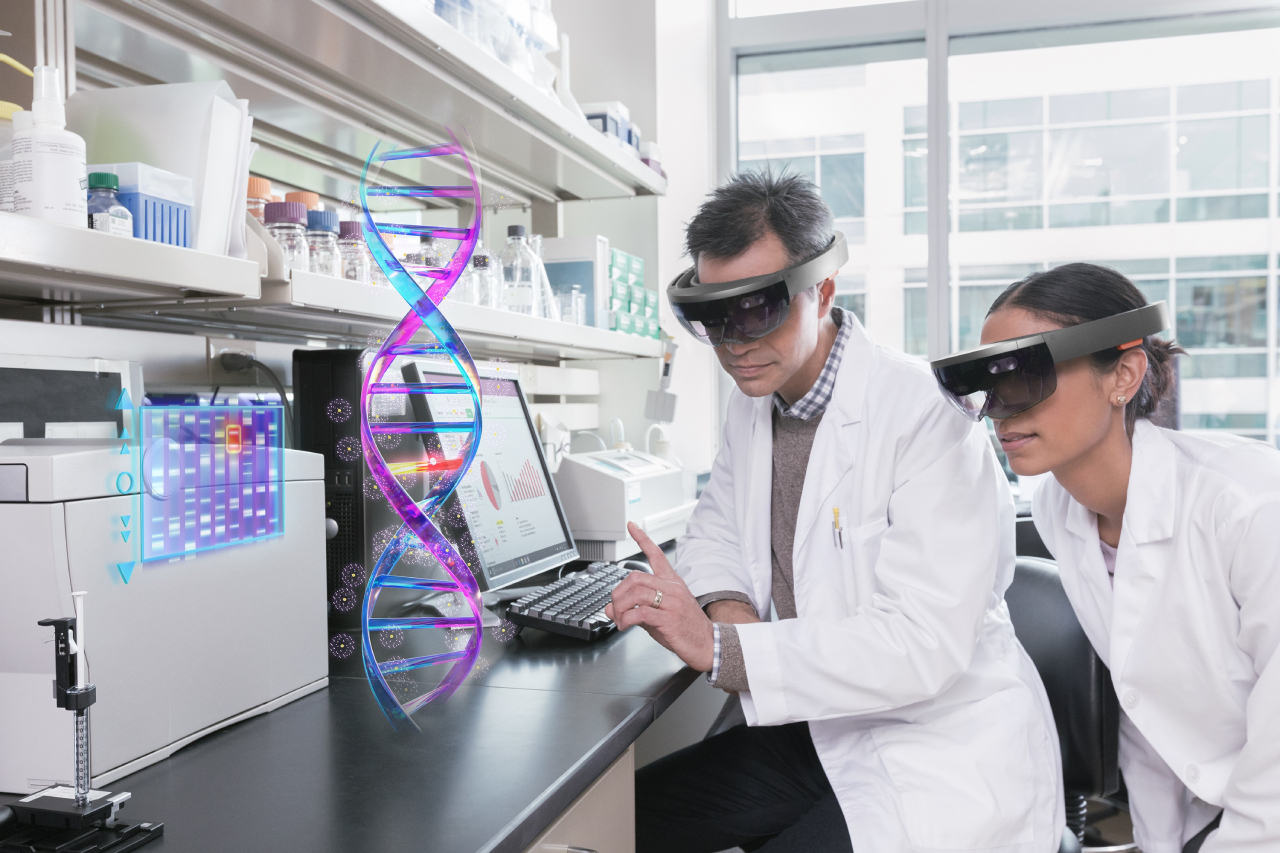 AR is crucial in the marketing mix as
AR promotes the product, boost the branding of the product and the company

Bring life to the mechanism of drugs through interactive visuals and boost the brand's abilities and potential

Enhance the visibility of the drugs, and help brands to keep their 

high standards of excellence.
AR/VR for Pharmacology
Immersive AR/VR concepts have limitless visualization capability it serves an important role concerning the investigation of interactions between drugs and receptors. Accurate visualization of the way drugs bind to complex molecular targets is critical. Viewing molecular structures and understanding how medicines lead to changes in their binding regions is essential. This ability is crucial for predicting the modifications that are necessary for creating more effective next-generation drugs. AR/ VR drug modeling allows real-time haptic interaction with the molecule, along with the ability to customize molecules. The immersive nature of AR/VR can provide solutions to problems encountered during visualization, as it allows the doctors to experience and interact with molecular models by stepping inside them.
AR/VR can change the normal doctor-patient consultations and make it more patient compliance targeted. The activation of the AR/VR system can 
Promote medication therapy management and help patients develop a medication-related action plan, advancing safe and effective medication use. 

Instructive use that provides visual and auditory instructions regarding standard medication safety and effectiveness could be implemented when a patient receives a new prescription. 

Demonstrate administration procedures and mechanisms of action in receptors for complex medication regimens.

 Patients could perform procedures virtually, such as injecting vaccines, allowing them to practice without harming themselves or wasting medication at the required dosage.
In recent years, the exercise of pharmacology has evolved to a more service-based model, where doctors counsel patients on how drugs act on the individual body.  The use of AR/VR for patient counseling can assist doctors in serving this function. With AR to resemble the smartphone market, AR is becoming more accessible to customers; thus, its application in drug administration and pharmacology will likely become more widespread. AR/VR also serves as a learning tool for patients to enhance their understanding of biochemical reactions and drug administration.
Are you interested in augmenting scientific concepts? Get connected now.