If you are a realtor or working in the real estate sector, this question is for you. Have you ever lost a client, due to the weather? I mean it's pouring out there, and they are tired of walking through properties to figure out what would be best for them. Hence, they leave saying they'll be back but maybe they got roped in by your competitor, or they found their dream house somewhere else. So, they never come back, and you end up losing a lucrative account. House hunting can be exciting and fun. But, apparently, for a client, it can also be exhausting even otherwise, irrespective of the weather.
This is where Augmented Reality can help you as a realtor! Have you considered why not many of your customers who seem on board at first are not that interested later? This is because they do not have a real clear picture of what the property looks like. While looking at photos in a brochure is nice, it's only one representation – a static image of a place. But, it does not act as an alternative to the real thing. A print brochure gives off very little information to the client, and even with pictures, it does not give out the real picture. Taking your client to every site can be not just time consuming but exhaustive as well.
How can AR help you woo customers?
With AR, real estate scales a new high to create a more convenient and exciting visual experience for buyers. You can now take them to whatever location they want, from the comfort of their home or your office. Give them a digital walkthrough, alleviating their headache for travel, trying to determine the street signs and house numbers. Once, they get to experience it they will have a clear picture of the property.
It is also convenient if you aim to convert your prospective buyers who may be abroad, into buying customers. Maybe you have a buyer out there in London looking for a penthouse in Newyork or could be that is a client in the US, wishing for a luxury flat in Bangalore.
What you would have to do is download the Augmented Reality app on a Smartphone or tablet and show a 360 –degree view of the space like a new home, apartment or office. Apart from that, if you wish to see how your house would look fully furnished AR also lets you place the new furniture, appliances or furnishings and rugs in its assigned places. If your client likes it, they will also buy it for sure.
With AR, it is also possible to give them an idea, if that king size bed they have will fit properly to the master bedroom or if the fridge will go in the corner in the Kitchen.
Think ahead of the competition and woo your customer, go that extra mile. From the comfort of their home, you could let them browse, compare and analyze properties. You will get more traction from your clients if they get a more detailed and informative visual proposal. This is possible with Augmented Reality.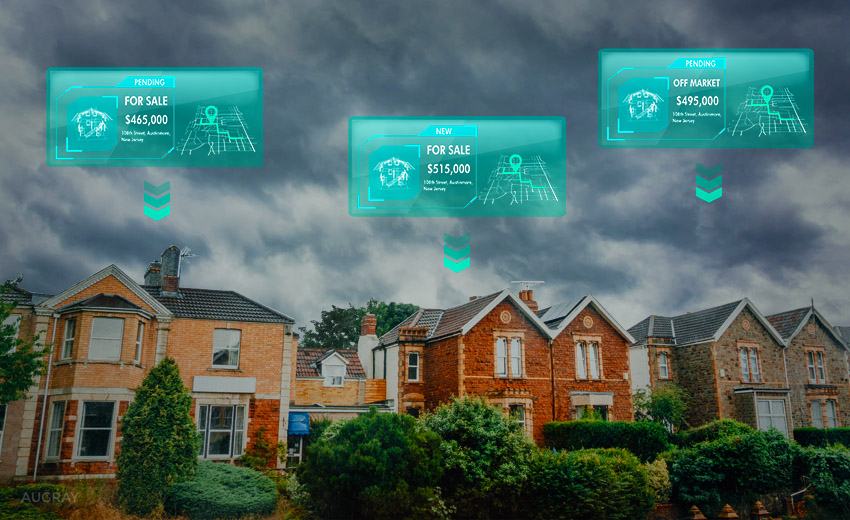 How else can AR benefit Real Estate Company?
Can it benefit your business in other ways? Well, it can!
Apart from the convenience that it offers the home buyer, it also helps agents in other ways. Augmented Reality App can be used for advertising and marketing purpose as well. Garner the attention with the 360 views of the house and location and be as innovative as you like.
Some marketing features of AR for Real Estate:
More interactive print catalogs and big boards
Geo-Tags that can help locate your properties on sale in real time
Have an animated call or contact feature in the app, so that a prospective buyer can instantly connect with you
Wider Reach
How AR marketing help increase sales?
Let us go with the principle that AR marketing brings in more customers. To support, look at the example below:
According to research by Hidden Creative in the UK, augmented reality is expected to trigger sales success. Recreating the Pepsi challenge, they compared traditional display ads with AR marketing of a child's toy. They took a survey of about 200 parents, where they showed display ads to half and augmented reality ads to the other half.
Then they went on to ask them two questions:
If they would buy the toy?
How much would they pay for it?
The conclusion of the research was that of the 100 parents who viewed the display ad, about 45% said they might consider buying it, at preferably a cost of £5.99. Meanwhile, of the ones who saw the AR ads, 74% were on board to buy the toy, that too for a higher amount of £7.99!
Wrap-up: This would tell you the power of augmented reality in increasing sales. If you were to translate the experiment for the real estate sector, you are liable to see a positive outcome there, as well.
We, at Augray, have also come to the same conclusion. We work on the principle that real estate agents and companies are tapping into the AR market in a bid to stay connected with potential clients. Knowing how innovation is the key to winning customers, Augray provides cutting-edge AR solution to the Real Estate, aiming to drive their sales to the next level.