"The ready-to-wear clothing label ZARA, known for always being one of the first to adopt the new trends, is launching an augmented reality collection. Discover the new collection using this innovative technology on shop windows, delivery boxes or on ZARA's online store".
The above is from a story that the Fashion Magazine "Vogue" published on 12th April 2018. Well, Zara is not the first or the only fashion label to realize how Augmented Reality has started revolutionizing the retail industry.
Zara, however may have gone a step further so that it allows the consumer who has the Zara AR app installed on their phones to just point the phone to a specified spot such as to a window or a delivery box in order to watch models Léa Julian and Fran Summers walk, pose, talk or dance for about 7-12 seconds on your phone screen like a hologram.
40% would be willing to pay more for a product if they could experience it through augmented reality."
– Retail Perceptions
Realizing the significance of incorporating Augmented Reality into retail shopping experiences, some of the retailers have already started adapting to the idea. Augmented Reality alters not just the view of the world around, but also the way we shop. As we know, this thing called AR is a technology that augments, the real environment by incorporating computer-generated digital information via a Smartphone or tablet.
Even now, to a large extent online shopping or E-commerce is all about just feeding the consumer with information about the product; it's still flat grid flat images of the products with details given below. While that may have worked well till now, retailers have become conscious of the fact that the internet has matured to being about bringing experience for the consumer. Be it on a mobile or a desktop, a customer's primary online shopping experience is browsing through the pages of the catalog.
With so many online retailers or E-commerce stores out there vying for competition, how can you stand out? It's all about connecting to your consumer market and appealing to their psyche. This is what AR is all about. It helps your consumer to break the monotony of browsing through the catalog.
Augmented Reality, which has been in the shadows of Virtual Reality till now, is all set to make its presence felt in a more significant way and its time that retail industry leverage on this. With AR, the retailers will now be able to boost their brick and mortar store experience by overlapping a digital layer to the real-world thus offering shoppers context and service in real time by their location, thus creatively engaging customers.
At the same time, if an online retailer is to compete with a brick and mortar store, they will have to progress to offering consumers, a chance to feel and experience the product like if they are at a brick and mortar store.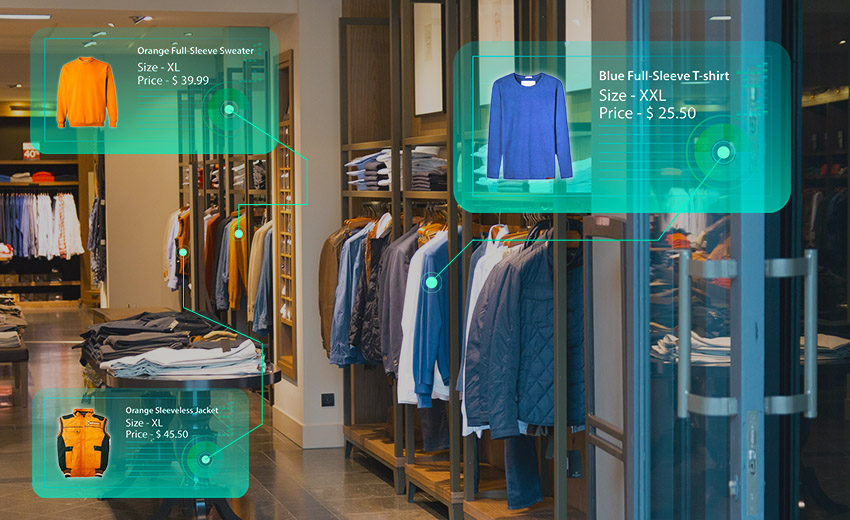 IKEA, the Swedish furniture manufacturer, in 2013 came out with the first augmented reality catalog of furniture, which allowed the potential buyers to see how the furniture would fit into the designated spot in their home. Hence, we can see here how AR was used to solve a major issue for the buyers, i.e. if a piece of furniture they wish to buy would fit into their home?
AR is all set to revolutionize the retail industry, be it for the brick and mortar store or the online retailers. By blending digital with the show-rooms retailers will now be able to provide a broader communication, experience and better engagement with their customers.
Identifying a potential market, as early as 2013, AR was used to let the shoppers know instant information about the product to the shoppers, such as the nutritional value, gluten-free or organic options, current offers running, etc. or even allowed them to make a comparison if they pointed their smartphone to a shelf.
As Augmented Reality developed, so did the degree of personalization provided become more powerful. Revolutionizing the retail industry using AR, it became possible to see if a particular sofa, would fit into your drawing room, you could use AR to "try on" the furniture to your room.
Another powerful example of how retailers have used AR is evident from how Yihaodian, the largest grocery store of China set up "virtual stores" in the parking lots, parks and other public tourist spots, nationwide. If a customer had the app downloaded, they could use their mobile device to shop virtually. Using the camera of the device, the app guides a consumer to these virtual aisles, where with just a touch; the product on the screen was added to the cart. Once done, the consumer just had to arrange for the products to be home delivered.
Wrap up: From all these examples to how Zara has adapted to the AR technology, you can see how Augmented Reality has changed the entire face of the retail industry to make it more interactive, delivering upbeat experiences to the customers, in an attempt to attain and retain them. The retail sector is expected to spend almost $38bn by 2020 worldwide on VR/AR solutions. This is an indication that if you are to lead the race, it will pay to pursue the potential for Augmented Reality in the retail sector, slightly more aggressively.
AugRay offers leading Augmented Reality Solutions for Retailers and Brands who are aiming to build brand loyalty and trust with their target audience, by providing them with an unforgettable shopping experience and letting them view, analyze, customize and compare a wide range of products. We believe that delivering personalized service keeps a customer happy and connected to the brand.