Brands are vying to make a name targeting the audience that can help them build their brands. In the current scenario, I believe Millennial is the way to go. Millennial, born in the 80s and the 90s have been outnumbering the baby boomers, especially by 2017 and if a brand is to make a niche for itself in the market, it would need to target them. Having them as part of the voice of a brand rather than as passive audience works in no small effect to help increase business success.
Targeting them directly is the best way to garner their attention and trigger a link. Engage with them and sustain the connection, so that your business can thrive. Well reaching out to millennial could be a bit tough, seeing as how they are easily distracted and are not just conscious but also skeptical of brands that target them. However, once you earn their loyalty, it will work for the brand, as getting loyal customers to vouch for you would be the best referral a brand could get.
Tips for brands to target a millennial
Often than not they take up multitasking, browsing on their mobiles and other devices so that the best way for a brand to reach out is to promote the brand across multiple platforms and various social media. The best way I would say is to get them where they are at. Another way to quickly lose out on this particular target group is by over-generalizing the content or message. Personalize the social media messages and campaign content, and you should be good to go.
Does Augmented Reality help Brands to reach their Goals?
Since we have already established that reaching out to millennial can be challenging, we can quickly determine that traditional marketing is not the way to target this tech-savvy group. Spending half their time on the internet or social media's brands have found Augmented Reality as a stepping stone in garnering attention from this target group and to increase their engagement with businesses. Could be that most brands have realized the significance of leveraging on the success of AR game, Pokémon Go.
What is AR? It could be said to be a combination of the real world view with the computer-generated content. For example, it could be that you project a created item to your natural surroundings or that you use the live camera feed of the real world surrounding superimposed with the created entity. Well, one could say that rather than taking you to another place like in VR, what AR does is to beautify your existing surrounding or make it better. It aims to bring life to a product.
Meanwhile, what do you think works in favor of Augmented Reality to target a millennial? The main aim is for the AR to connect to the core values and experiences delivered by the brand, thus enriching emotional awareness with the customers. Apart from the fact revealed by studies that videos frequently encourage more of interaction from a customer rather than a picture or regular post, AR is also expected to develop over the years, ensuring more of attention, apparently. With AR establishing itself to be more than rage, is it any wonder if it could turn to be the best way to advertise a brand to the millennial?
Coping with the rising trend, you see that more and more brands are adapting to using Augmented Reality with social media so that they will be kept abreast of the competition.
1) AR establishes "seeing is believing" motto
If you want to build more trust with your brand in your millennial customer, then you can adapt the 'seeing is believing 'motto. What if it was possible to not only inform the location to the customer but if you could show it too? You could incorporate AR and generate videos that are effective. Or maybe you could woo the customers by displaying to them what would they experience as they dine at a particular place. The engagement following this is naturally expected to make more of an impact and boost sales. AR aims to go Social, you can say. Pokemon Go and Snapchat hot dogs are just examples of the changing AR technology.
2) Use of AR could trigger Impulse buying
AR works to blur the line between the real and imaginary world, thus delivering high-end customer experience. For example, there was the AR app launched by Lacoste in 2014, which allowed customers to do a dummy run of new looks and share the pic on social media.
This could act as the trigger for the buying customers to splurge on a particular brand or product. Most of the big brands are already in the game, with the rest vying to get there.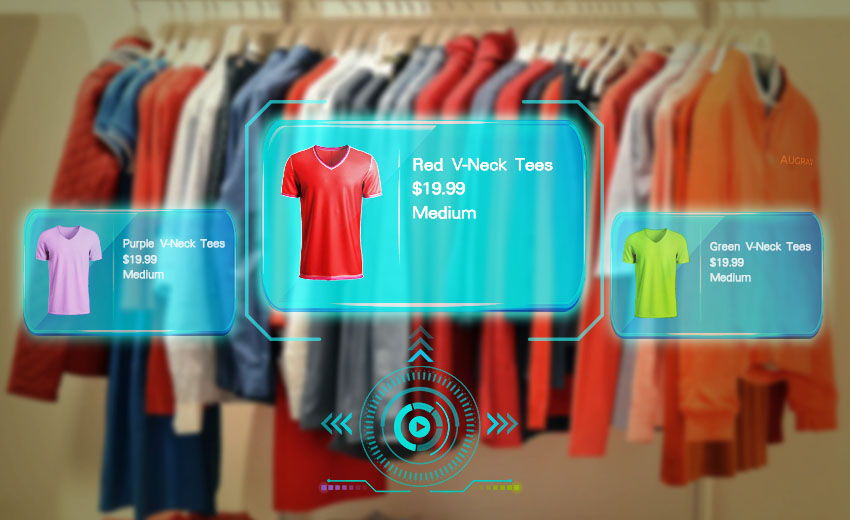 3) AR helps to re-invent the whole customer experience for a brand
Have you ever thought that you would be able to try out a product before purchasing it online? I mean what if you could get to do it, without even stepping into a store? Well, AR works to deliver an ultimate customer experience, thus prompting increased sales and growing customer loyalty.
If you wish to see an example, the Brand Estee Lauder seems to be offering to its customers the option to try out its various lipstick shades, before making the purchase. What they have to do is use a Facebook Messenger bot, called the LipArtist, so that they could see how they would look wearing a particular shade of lipstick. This worked to create more sales, wooing more customers.
Wrap-up: You can see here, that with the further evolving of smart devices and technology, brands have realized the need to reach out to millennial using techniques they can easily relate to, thus triggering the growth of AR in social media campaigns. This also gives brands a leeway to use the immersive experience as a way to sell indirectly, by adding value for the customers.
Realizing the importance of using AR to market their brands, companies have started approaching Augmented Reality companies, who can deliver the best. We, at Augray, are at the forefront helping brands reach out to the millennial by creating an interactive experience for them in a mode of communication they can better understand, thus urging them to plunge in and make the purchase.