Everyone has an aspiration to buy their own dream car after testing it to the latest list of technological specifications.
What if you could take a test drive of your dream car, hear it in motion, look at its engine and even see the road from the driver's perspective? You must be wondering that is been offered by every car dealer so what's new? If we say what if you could analyze the car's technical specifics all at the comfort of your home? Sounds surprising? That is the power of Augmented Reality and its potential in the Automobile Industry.
Augmented reality holds great promise into automotive industries. Given by the applications and the potential ROI, the automotive industry will be apparently leapfrogging other industries by 2020 on augmented reality (AR) adoption.
AR accompanied by computer vision and IoT forms the core of the disruptive technologies that have taken the automotive industry by storm. In the times to come, AR will be soon indispensable from the automobile industry. Here is how:
Improving Customer Experience
Further, to make the drive more engaging, in-car AR systems highlight the popular landmarks, restaurants, and shops as the customer drive past them. The driver's social media feeds are additionally displayed in a less distracting manner. For the digital age, an AR product visualization is considered as the trial before you buy the concept. In the case of the automotive industry, 3D product visualization with AR offers car dealerships unique ways to showcase their car models. Enabling customers to explore different specifications and configure different models at the comfort of their homes. Using Apple's ARKit, the Engine Creative R&D team created a car configurator app to enable users to place photorealistic 3D models of their favorite Audi in any real-world environment. This means that any model in any configuration can be placed directly in front of customers.
In addition to choosing their preferred color combination, customers can configure and interact with the vehicle in a number of ways like opening the doors to view inside and interacting with the displays where all features are designed to create a rich and immersive AR experience.
Jaguar's commitment to augmented reality has been impressive. The auto giant has many AR projects under its belt and on-going investment to develop AR experiences such as the Land Rover iGuide app which allows Discovery owners to explore their vehicle and understand key features using AR technology.
Digital Stores and Augmented Sales
AR is not only improving the consumer's driving experience but redefining the way the automotive retail industry sells cars. With all the relevant information at their disposal, customers like to continue their purchase journey online, making the automotive retail to shift focus from a product-driven to undertake a customer-centric sales approach in a bid to adapt to the changing customer behavior and expectations.
Augmented reality is now used to digitize showrooms while solving the problem of exhaustive limited inventory. AR enables car dealers to present buyers with a complete range of models and specifications and use their (often minimal) space to maximum effect.
Audi was one of the first to improve the physical showroom experience by applying AR to the world's first fully digital car showroom at Audi City London. Audi City digitized showrooms provide a fully interactive retail and branding experience, driving customer engagement. Customers can choose and customize their own car model on their mobile devices.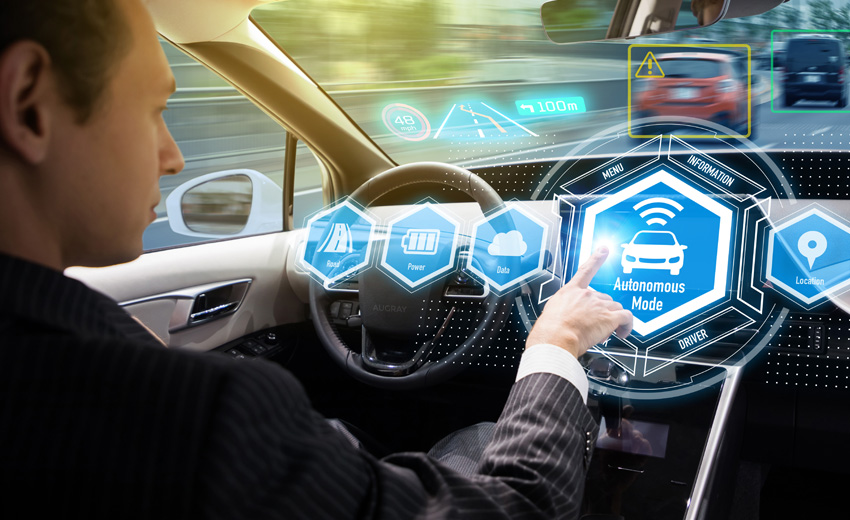 Technical Information Assistance
 AR has been used as a tool to better educate customers, especially in terms of technical information. This holds true in the automobile industry as well, the ability to overlay technical data onto real-world objects (i.e. cars) in a bid to offer customers with contextual information offers a great opportunity to educate them better than more traditional channels such as an online video.
For instance, Hyundai recently launched a unique augmented reality automotive sales tool developed for Australian car dealerships. This AR app, running on iPads, helps Hyundai sales staff to demonstrate the features and performance of Hyundai's new i30 hatchback in a more interactive and engaging way.
Buying Assistance and Product Assessment
Automobile manufacturers are looking to enhance the safety standards, personalize and augment the driving experience by building AR technology into newer car models. In CES (Consumer Electronics Show) 2019, Nissan has presented its ground-breaking Invisible-to-Visible technology (I2V) concept which creates a 360-degree virtual space around the car to offer real-time road data and make manual navigation assistance smarter and safer to its users.
Additionally, AR-based 'Heads-up Displays' (HUDs) are transforming automobile windscreens into large computer screens and displaying weather information, live traffic data, collision warnings, travel information, navigation indications, vehicle speed all directly in the driver's line of vision non- intrusively.
Today, AR HUDs are already available in a range of car models that include Chevrolet Camaro, Mazda6, Toyota Camry, Lexus LS 500, etc. The AR HUD presents a wide array of information like navigation system's information, speedometer, tachometer just at the line of the human's sight.
With the growth of AR, as the automakers are trying to catch up with autonomous driving predictions, augmented reality HUDs have already incorporated advanced driver assistance systems that are expected to soon advance to partial or full information.
Easy Maintenance
Augmented Reality makes automobile maintenance easy. For instance, AR glasses have been developed by Mitsubishi making it easier for maintenance workers as they have the correct manual in hand when carrying out routine maintenance of manufacturing equipment.  Users even have the ability to enter inspection results with their voice. This enhances safety and efficiency of maintenance work, promising enhanced safety conditions, to enable car makers to develop AR systems to lean towards integrating gesture and voice recognition. For instance, an incoming caller's face pops up on the windscreen allowing drivers to accept or reject calls with a swipe of their hand or a voice command, without reaching for their mobile phones.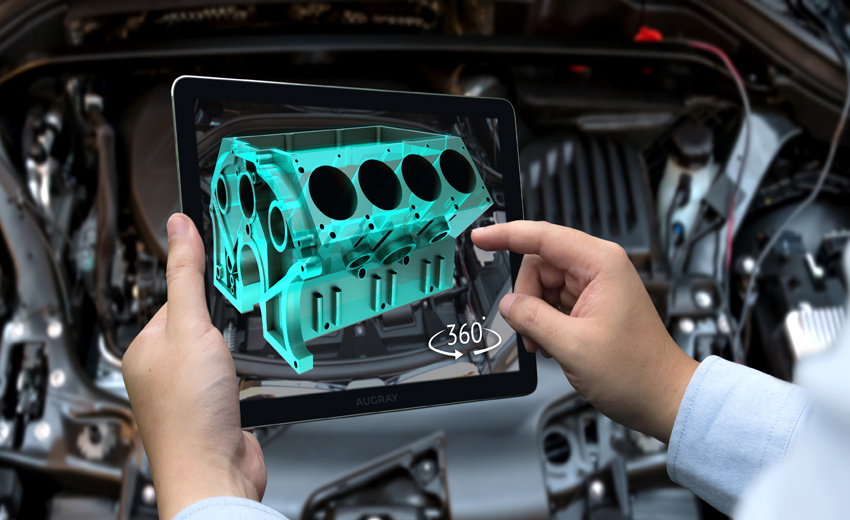 Designed for every Car
If you were thinking that AR is limited to high-end luxury cars, then you are wrong.
In 2012, a Delhi based start-up designed an AR app for Maruti Suzuki's Alto 800 promotions which let users book a test drive, discuss the car on social media or swipe through videos. With its immense potential, all the car majors are inclined to bring a little bit of AR into their cars.
Automated technologies are growing more intelligent and efficient offering many opportunities into the automobile industry. With the implementation of AR, the automobile industry has seen technological collaborations to increase their revenues.
Towards an exciting Future ahead
Summing up, although AR in the automobile industry is still young, its immense potential in enhancing driver safety and creating a more exciting driving experience, certainly augurs well for the future.
In the automobile industry, there are multiple areas where AR can streamline production processes, reduce costs and increase turn-around times. While these do excite the new age customer, the application of AR in production is only in infancy. There is enhanced collaboration, visualizing company data and production information, as well as more hands-on uses as detailed above are set to change the way vehicles and other products are produced in the very near future.
AugRay works to make the customer experience more interactive, rich and engaging so that it can add value to the service, creating brand awareness and customer loyalty. If your company is planning to incorporate Augmented Reality into their day to day or promotional and marketing activities to enhance customer experience, then contact AugRay today to get the most suitable AR solution for your brand.