Imagine if you can interact with your favorite player and are empowered to check out your favorite brand engagement footage by following a simple URL on your mobile browser, or by scanning a QR code that is integrated into the controller. What more, how about a scenario when you as a visitor are able to view your photo and video content with an option to download or share your brand engagement experience on Facebook, Twitter and via email?
Welcome to the world of Broadcast AR or Live AR! I will say that Broadcast AR is the trend of the future which will redefine your entertainment and the way your interaction goes with your favorite brands. Broadcast AR or Live AR has huge marketing potential too, which I will discuss subsequently in this post.
So, sit back and enjoy reading the disruption what Broadcast AR or Live AR can do to your business, work, and entertainment!
Broadcast AR provides the ultimate and highest quality solution for brands and helps it realize its true potential seeking to revolutionize the way they interact with the audience. Here is how Broadcast AR can prove to be effective in target communication.
Engage
As users step in front of the AR screen, they are immersed in a photo-realistic digital experience to meet a well-known character whom they idolize.
Entertain
The system allows visitors to interact with the AR character which appears right beside them in real time and provides an engaging entertainment with a photo opportunity with the character.
Brand / Monetize
In my opinion, here is where broadcast reality scores brownie points. Branded content from a personalized AR experience can be shared for free or in exchange for money, allowing tremendous opportunities for on-site / in-store revenue generation through photo and video sales.
Among the different benefits what Broadcast AR has to offer, you must be intrigued that how does broadcast AR work? Here I detail you the process behind the technology-
1) The visitor steps in front of the screen
2) A character appears on the screen next to the visitor
3) The visitor interacts with the AR character which appeared in step (2)
4) The user gets to have a photo/video with the character
5) Shareable content is generated, which the user can download to share on their social media platforms.
Now that you know the business benefits of Broadcast AR, here are some live Broadcast AR interactive project examples to add to your understanding.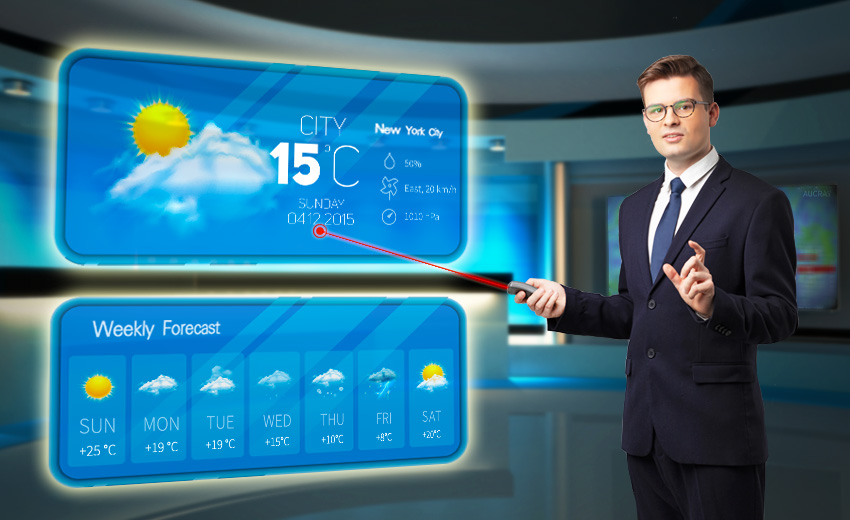 The ADIDAS tango league AR Experience
The INDRA BroadcastAR Interactive system debuted in June 2018 with the participation of Marcelo Vieira, the Brazilian football player representing Real Madrid. The event, held at the Adidas Tango tournament in Los Angeles was followed by similar events in Berlin, Paris, Madrid, and Milan. Participants of the Tango League were able to meet with Marcelo and surprise him with his football tricks, which led to the star football player, came to life in all locations in real time using AR technology.
ADIDAS example
Here is how people interact with the Broadcast AR system, through the Adidas Tango League AR Experience; and I bet you will be interested to read:
The System plays a full-screen idle video to attract visitors. Host calls out players to the activation area to show their skills to Marcelo in front of the screen/camera setup.

The visitor is invited to enter the camera view/footprint area and the host triggers the users to start.

The visitor begins tricks of their choice in front of the camera with the host starting to record on the iPad Controller, and a 30-second countdown begins.

The invited visitor host triggers positive/negative reactions and completes tricks from Marcelo during the 30-second AR experience.

When the countdown reaches 0, the AR experience ends with Marcelo automatically leaving the camera view. Post that an Adidas branded identity slide is shown on the screen.

All the recorded scenes, including Adidas indent, is sent to INDE's SnapShare image sharing website, which is accessible to the visitors via the pre-determined URL.
The Different Character Options
Users can integrate any character into broadcast ranging from athletes to idols, celebrities, and heroes.

Broadcast AR assists users to engage with characters they know and like in a much more conversational manner, thus increasing engagement levels.



Interaction through broadcast AI
Till now you must have been in awe about the tremendous potential Broadcast AR holds, so how do you interact with Broadcast AI, here is how-
1) Looped animations – In Looped Animation, the characters go through a set order of animation sequences thus creating the illusion of interaction.

2) Gesture control – Through Gesture control, users can control the movement of characters via motion detection and gesture control systems like Kinect.

3) Experience controlled using a tablet / mobile device – Using a handy Mobile device or Tablet users can launch different scenarios in real time.
How does a user share the experience?
Using Live AR, the users can share their experience through the social media uploads. This provides marketers a golden opportunity to target them via their social post analysis. Here is how the branded photos and videos can be:
Shared on social media

(Instagram, Facebook, Twitter, SnapChat)

Printed on site
In the Adidas example, that I discussed, upon finishing their Adidas Tango League AR Experience with Marcelo, the visitors are encouraged to check out their brand engagement footage by either following through their mobile browser or by scanning a QR code which was integrated into the controller.
As a targeted advertising strategy, the visitors are empowered to view their photo and video content, and download or share their Adidas branded experience on Facebook, Twitter and via email.
Marketing & Advertisement through Live AR
Broadcast AR empowers the marketer with a wide array of branding opportunities; you will be amazed to see that pointed below-
Product placement

– When you as a marketer know how much is the brand association matrix of your customers, you can market your brand through different merchandise options like accessories, clothes, food, and beverages, etc.

Ad loops/images

– These are shown between visitor experience sections.

Brand logos

– They strategically are placed on photos and videos captured by the system, on floor stickers and stage props in the AR interaction area to engage maximum user attraction.

Branded custom AR scenes

– They are built around brand ID and are custom made for custom campaigns and or product launches.
How did Coke introduce Augray for Consumer Interaction?
There have been many companies which reach out to augmented reality companies to create an engaging experiential campaign. Coca-Cola spotted the opportunity way back in 2014 with a strategic partnership with Augray.
Coca-Cola and its agency Big Fish, approached Augray to launch their first augmented reality event in India, referred to as "Share More Happiness." This was a six days stunning marketing stunt which was set up at Forum Mall in Chennai (India) from 24 -29 Dec 2014.
In this live case, organizers wanted to surprise the unsuspecting holiday shoppers by offering them with an unbelievable interactive AR experience. Augray made it possible with its Augmented Reality app, engaging the audience to take a pic with its app and see themselves as a virtual Santa on the giant digital screen, dancing and entertaining the crowd, thus sparking an instant emotional connection with the Brand.
This event helped Coca-Cola to reach out to more than 10,000 shoppers with selling over 2,100 Coca-Cola's in one location; such is the power of Broadcast Reality. This interactive and fun holiday Augmented Reality Campaign was the largest of the event in India and second largest, globally.
Broadcast AR or Live AR is designed for the new generation helping organizations deliver individual and group Augmented Reality experiences in public environments. For brands seeking to revolutionize the way they engage, speak and entertain the world, Broadcast AR provides an ultimate and highest quality solution. It is designed to deliver individual and group Augmented Reality content in public environments thus enriching user experience.
AugRay works to make the customer experience more interactive, rich and engaging so that it can add value to the service, creating brand awareness and customer loyalty. If your company is planning to incorporate Augmented Reality into their day to day or promotional and marketing activities to enhance customer experience, then contact AugRay today to get the most suitable AR solution for your brand.