Whether you have played "Pokémon Go" or not, you've probably at least heard of the game, and no doubt, that means you've heard of AR (Augmented Reality).
A special app on your smartphone or tablet makes it look like Pokémon is right there in front of you (augments the experience) while you search for and "capture" the different characters.
The Pokémon Go craze from last summer most likely put AR on the map but don't make the mistake of assuming that AR is just about playing video games.
All facets of our lives – shopping, health, travel, and education – are being touched by this latest technology. AR is changing the way we buy clothes, redesign our living rooms, dine out at restaurants, and even finish our homework.
But before we get into the history of AR, don't confuse it with VR (virtual reality). I know… you were just getting clear on what VR is when AR started getting popular.  
VR creates a convincing, interactive world for the user, albeit imaginary. You wear a helmet-sized device on your head to see and hear a real situation like riding a horse or walking down a street.  On the other hand, AR adds to your existing, real environment.
Let's say you are walking down the street, you can use your cell phone or tablet to get real-time information, like the weather forecast, traffic, and nearby coffee shops, just by holding the device up to an object.
Yea, it's cool. The  Augmented Reality future is here, and marketing and storytelling opportunities are ripe for entrepreneurs in all sectors of life.
Background of AR
AR has been around much longer than you might think. Research shows that all the way back in 1901, author L. Frank Baum (children's book, "The Wonderful Wizard of Oz)" mentioned an overlay of spectacles, data, and real life, paving the way for what is becoming known as AR.
Over time, there have been many strides in AR. But not until 2013, when Google came out with its AR glasses, did the term become more mainstream. 
Today, as AR is coming to the forefront, making a splash into our everyday lives, let's look at some examples.
You're at your favorite music concert and want to know where the band is playing next. Just point your smartphone at a performer and view real-time information on upcoming shows, ticket discounts, and announcements.

Watching a football game with your friends? You'd like to find out an athlete's stats. Point your tablet or mobile device at the player or a coach, and you will have access to sports insights and information – just as if you did an Internet search. Now, all you need to do is the point.

Ever have trouble reading the tiny print on your prescription bottle label? AR has changed this. Now, patients can see dosage, side effects, and other information through 3D glasses instead of squinting and turning the bottle.

Let's say you want to purchase new clothes and you prefer to shop online. Besides, who wants to wait on long check-out lines when you can shop in the privacy of your own home? AR is helping online shoppers "try on" clothes and accessories so the customer can get a glimpse of what an outfit would look like.
Certainly, there are plenty of social benefits to AR.
Take the Pokemon Go craze. It got thousands of people off the couch and running around, which is a good thing for obesity. AR also helps police catch criminals and people address issues like depression and illnesses.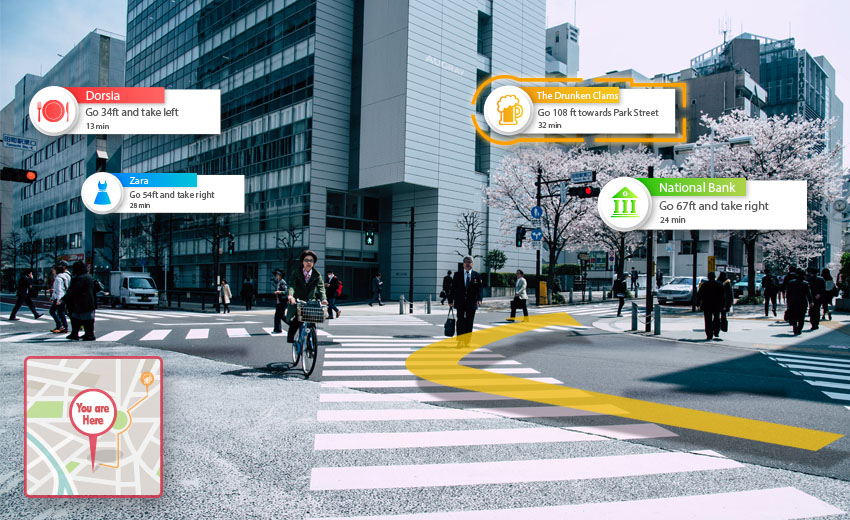 The Future of Augmented Reality
So where can it go from here? Expect to start seeing more AR-ready apps on your smartphone. Apple just announced that the iPhone will be technology ready later this year.
''This is one of those huge things that we'll look back at and marvel on the start of it,'' Apple CEO Tim Cook said during a recent conference call with analysts.
Also on the horizon are more experiences using AR-enabled glasses that are lightweight, comfortable and somewhat fashionable.
Skiers and snowboarders are already wearing goggles that show their speed, height, emergency information, GPS and trail maps.
Going to the museum, furnishing your new home, choosing a college – AR is part of it. In colleges, medical students are using AR to improve the way they do dissections and procedures.
Well, technology will save consumers and companies time and money. For instance, in manufacturing, it's helping companies build and repair equipment more efficiently.
In the future, we can plan on seeing advertising at our fingertips – literally. Rather than just learning about a product, consumers are seeing a product in motion, making the experience much more interactive.
Heather Bellini of Goldman Sachs Research expects VR and AR to become an $80 billion market by 2025.
"We think VR and AR have the potential to transform how we interact with almost every industry today, and we think it will be equally transformative both from a consumer and an enterprise perspective," she said.
Once AR really takes hold, wide-eyed faces mesmerized with the new interface will be replaced with happy users who know and understand how AR works for them and makes their lives easier. Much of the AR experience is considered "single viewer," which limits its reach.
In the future, experts hope that AR will be more collaborative engaging larger audiences with a single viewing experience and making it accessible to as many people as possible.
There is a lot of excitement about where AR applications will go. It's an absolutely fascinating industry that affects our everyday lives and will soon move from novelty to ubiquitous. AugRay is helping to do just that.
By using AR technology, AugRay transforms what we do every day by adding an exciting visual and interactive layer to how we learn, communicate, play, work, shop and more. For more details on how AugRay has helped Fortune 100 companies to small-scale business, and consult on how to amplify the results with your marketing budgets, Contact AugRay