The growth of Augmented Reality (AR) technology and the usage of web AR, in particular, have been skyrocketing over the last few years. Tech giants like Apple, Google, and Facebook are readily pitching in their money into AR and other Extended Reality (XR) applications. As a matter of fact, market research indicates that the AR market is likely to shoot over USD 70 billion by 2023!
One of the most profound applications of the present Augmented Reality technology is in the world of online furniture shopping (e-commerce).
Web AR solutions have significant implications for retail businesses both online and offline. More than three-fifths of the customers use their smartphones in stores to acquire more product-related information, making it easier to push forward and promote the brand's web AR feature. Additionally, online businesses can do it directly from their websites. Apple has recently used this technique to roll out one of their products Air Pods Pro.
Here's how AR is revolutionizing digital furniture shopping and uplifting businesses through improved customer satisfaction.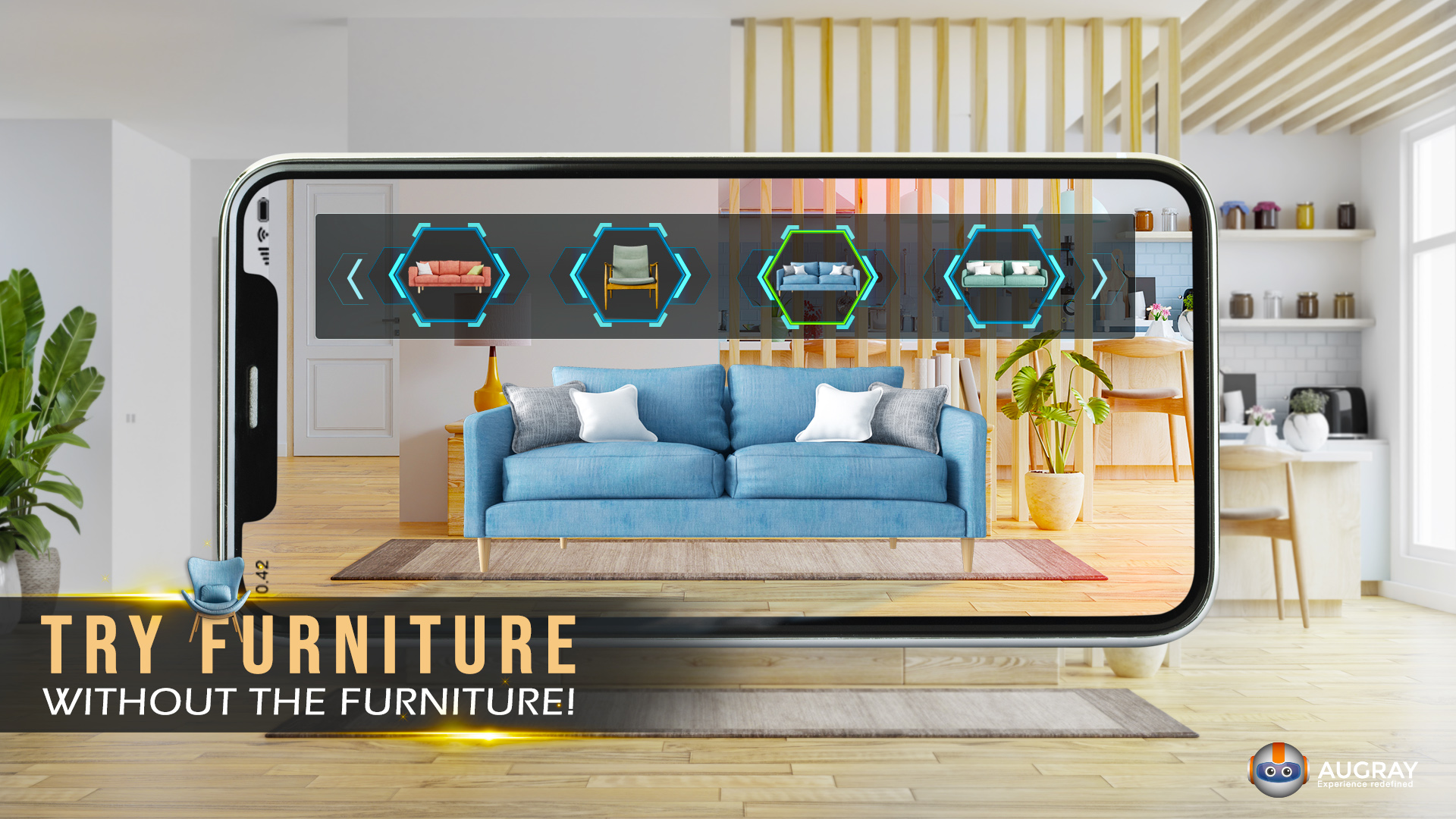 Before we dive in deep, let's understand the two broad branches of AR, which is Web AR and App-based AR. The platform upon which the AR is experienced acts as the major point of difference between Web AR and App AR. Which means, Web AR goes a step further to remove the extra step of downloading an App and brings the seamless experience of AR within the website itself.
Web AR: Try Furniture, without the Furniture!
Augmented Reality web apps and mobile apps are an extension of the AR technology and help customers make well-informed buying decisions while ensuring a higher customer retention rate for companies.
Web AR solutions are doing incredible things. They are removing barriers currently in the conventional mode of buying furniture for homes, offices, and more through simple web AR apps!
Furniture brands of the digital age are improving their web traffic by incorporating AR capabilities within their websites. Businesses like Interior Define are leveraging the power of web AR to help customers make better and faster purchase decisions by essentially allowing them to try-on the furniture from their catalogue without ever leaving the comfort of their personal space or even downloading an additional app!
All in all, customers are satisfied, and website traffic also increases. It is a win-win situation for everyone!
How Do Web AR Furniture Try-On Apps Work?
The way AR furniture try-on apps works is remarkably intuitive once the users get their hands on them.
After downloading the app on a compatible device or opening the browser to access the web-based app, customers simply have to measure the floor or room they are in by following the instructions. The customers then have to choose the furniture they would like to buy or explore from the catalogue. In just a few simple taps on the screen, the users will be able to view an AR version of their space with their chosen furniture.
Advantages of Using Web AR Furniture Apps
The implications of employing AR in a brand's e-commerce activities are astonishingly rewarding in the long term. Not only does it make the brand appear more reputable and on par with ever-changing technologies, but it also alters the purchase decisions of customers in a way that is a win-win situation for all!
For starters, AR is still a future technology for many smaller companies, with only about 1% of the retailers using them. Therefore, furniture companies that are the first to bounce at this innovation are likely to succeed faster by increased web traffic and conversions.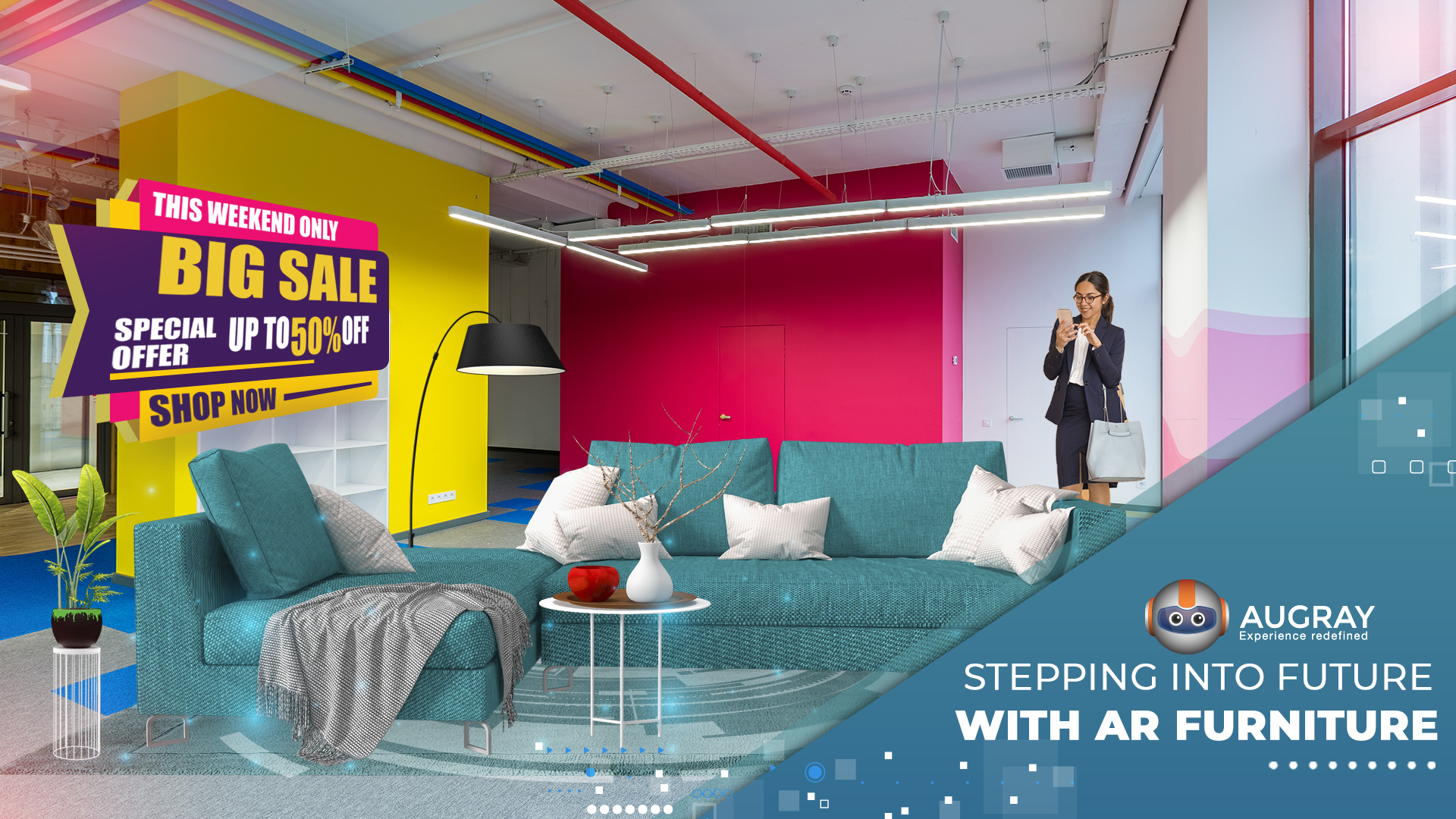 Secondly, buying furniture online is not commonplace because seeing the furniture, in reality, is not the same as seeing two-dimensional pictures of them. Web AR blurs the line between online and offline furniture shopping.
As a result, customers can decide faster on what to buy and will also not have unrealistic expectations from their purchases that can later throw them off guard.
According to a survey, over 70% of the customers show higher confidence to make a buying decision with AR.
On the whole, this improves customer satisfaction and customer retention for the furniture brand!
Stepping into Future with AR Furniture
To conclude, web AR try-on solutions are a must for a furniture company that is not only trying to stand out from the crown but is also looking to accelerate its growth in the competitive digital world because it makes buying decisions easier and optimizes the business's lead conversions funnel.
References
https://thinkmobiles.com/blog/augmented-reality-retail/
https://www.citrusbits.com/stats-and-facts-about-augmented-reality/