Tourism is a booming industry, and also an integral part of modern society. Today tourism is a major source of national income for many countries.". It accounts for 30% of the world's trade of services, and 6% of overall exports of goods and services. It creates a lot of job opportunities in the services sectors of the economy associated with tourism.
When planning a perfect trip, you need to make a lot of arrangements like travel, lodging, food, transportation, etc. With the increase in the number of smartphone users, the traditional method of planning a trip is slowly becoming outdated. Now at the tip of your finger, you get all the information required for the particular place that you are going to visit so you can plan accordingly.
Won't you be surprised if you could take a virtual tour of a place you are about to visit? Such a feat is only possible by AR. The juxtaposition of digital information with the user's real environment is termed as Augmented Reality. Unlike Virtual Reality which displays an artificial environment, Augmented Reality makes use of the traveler's real-time environment and adds a 3D component to it.
Augmented Reality helps in revolutionizing your travel experience making it more interesting and interactive. Many other sectors have already discovered and used augmented reality for marketing. Here's how tourism can use it. Read now to understand the different ways in which AR technology can help this booming industry attract its customers.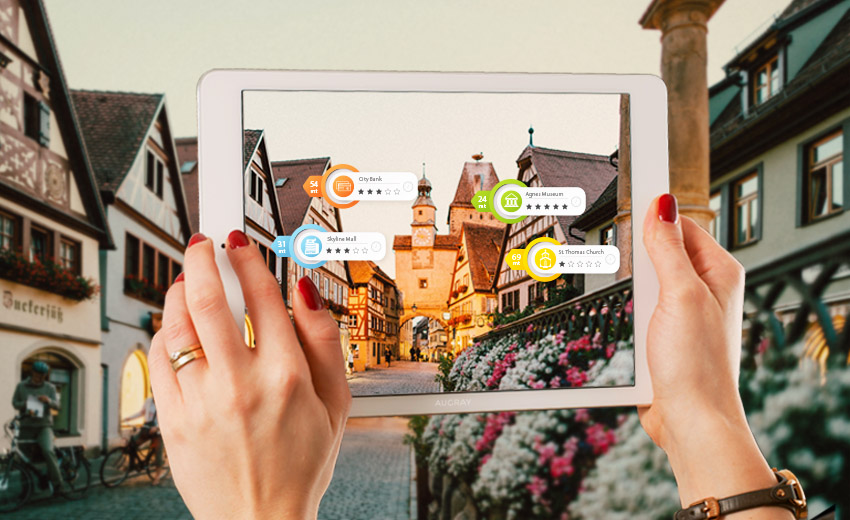 Hotel Room Selection and booking:

When planning a trip, we always make sure that we have the best hotel to stay, with all the necessary facilities and amenities in it. Making reservations over the telephone or through email does not really ensure you about the facilities in that hotel. But with AR you can easily get a 3D view of the room or the surrounding of the hotel in which you are going to stay. This helps you to select your hotel room perfectly.
Easy access to important information:

When traveling to a new place, you need to have all the important information about that place, like where you can get the best food of your choice, medicine shop, or the places that you should visit in that area and much more. Just with some brochures or pamphlets, you cannot get a clear idea about the place. But at the same time with the help of Augmented Reality, you can easily get all the location-based information right on your mobile phone while you are traveling.  Since you can use AR through your mobile phones, so it is very simple and portable. While traveling you can get to know about nearby restaurants and places along with their reviews. Not only these, but you can also know the weather forecast of that particular place.

Travel companies can use AR for marketing and promotion purposes by augmenting their pamphlets and brochures.

This will make the whole process more interactive as well as interesting.
Providing Real-time Navigation:

It is perhaps the biggest challenge to travel in an unfamiliar world without having any knowledge about the road and directions. But with AR the problem is solved easily. AR provides you with maps with digital elements added to it, like proper arrows for direction, images of any popular landmark in that area, so that you can easily reach your desired destination without getting lost in the trip.
Helps in language translation:

Language is always a barrier to us whenever we go to travel to a new place. Every time we are familiar with the local language of that place, and thus find it very difficult to communicate. With Augmented Reality technology, this problem is also solved. AR acts as a live translator for you. You can easily scan any signboard, menu cards or important information in public places through your AR app, and it gets translated to your native language.   
A live tour guide:

Your visit to a place remains incomplete if you do not know the history behind that place or any interesting fact of that place. Augmented Reality can give you the facilities of a live tour guide on your mobile itself. You can scan any monuments or statues or any architecture and can get to see the important information about that place. So there is no need to hunt for a tour guide.
Information about restaurants and other entertainment options:

Food is perhaps an important thing to think about when away from home. And also when you are on a trip to a foreign land, you must be excited to taste the signature dishes of that place. All such information about dining can be also accessed easily through AR. You can also get to know about any discounts and deals available in a particular restaurant at that point in time. Besides information about dining place, you can also access information about any amusement or theme parks and entertainment choices in that area.
Till date, perhaps the most successful example of the application of Augmented Reality in Tourism was developed by Saint Petersburg Clean Water Bureau that used AR to offer a cutting-edge 3D experience to potential tourists. The project was titled "Two Treasures 3D Tour." This particular campaign featured a virtual tour guide, providing a persuasive and interactive preview of the world-famous beaches and museums.
Indian Government has also started to promote the tourism industry using Augmented Reality. Already the states of Kerala and Gujarat have implemented AR in Tourism. In Gujarat, high-tech theme parks are developed featuring attractions, rides, and experiences based on Augmented Reality and Virtual Reality. While in Kerala, they have added Augmented Reality videos on their website, featuring the scenic beauty and cultural foundations of Kerala.
People travel for a lot of reasons like to refresh, rejuvenate, and freshen up their minds. Tourism helps travelers to explore experience and enjoy destinations in their country or abroad. Tourism being a booming industry and AR being a great tool in the hands of a marketer, can be combined together to create some magical experience for travelers.