AugRay's XR enables product experiences in retail industry
Technology Advancement
Technology is advancing in leaps and bounds. Augmented Reality (AR), Virtual Reality (VR) and Mixed Reality (MR) are now termed as eXtended reality – XR.
This technology is disrupting all the major industries with its innovative offerings and the retail industry is at the forefront of these solutions that AugRay provides.
Our strategies ensure that ER redefines customer engagement rules and provides retail industry brands with the opportunity to attract, win and retain customers.
We also aid in developing omni-channel-immersive experiences with product interactions at various interaction points – both in the online (e-commerce) and offline world (in-store/brick & mortar).
Strategic Moves in Retail
Today's customers are savvier than before and their requirements have to be customized at the blink of an eye-lid and if not done, businesses conversion rates are going to plummet like never before.
Our XR solutions enable retailers to meet these ever-increasing consumers' demands which have risen with accelerated technology and futuristic advancements.
XR also helps in designing products – virtually and reduces the cost of design, development and trial products. It offers new ways to solve market challenges and selling products with the ability to reduce wear and tear or theft on product samples
Application of XR across different touch points of retail
As highlighted before, these solutions benefit both customers and retailers, across in-store and e-commerce platforms. The solutions are product agnostic – fashion / footwear / automotive / grocery shopping.
eXtended reality is reducing the gap in decision making for consumers and increasing efficiency in various ways on every aspect of retail industry through augmented personalization and immersive experiences for customers.
Recent XR technology enables consumers to be part of the advertisement using VideoXR. VideoXR captures consumers face and engages them in celebrity endorsement campaigns.
This is done along with their favorite movie stars, sports icons, brand mascots, and animated characters.
Video XR uses face morphing technique where users take a selfie of themselves and the face morphing technology builds the user's avatar and includes that in predefined XR-enabled videos.
Such Video XR campaign improves both digital & non-digital campaign performance with increased dwell time, immersive experiences and participation. (As it personalizes).
Enhancing Personalization and Engagements
XR generates highly personalized engagement and user-generated content. It also accelerates online reach by triggering excitement of audiences to invite and share it with their friends and family.
Any Digital Marketing solution (SMM / SEO / SEM / What's App / Email / Affiliate) is now being amplified with two key XR directions. The consumer's consuming the content and taking an action due to their Immersive Experience.
The forms include entertainment, product visualization or other directions. The technology further provides the immersive experience with just a web-link click or a scan of a QR code from the mobile device.
XR helps uplift sales across the retail industry and increases the Click-Through Rate (CTR) while creating a relatively strong link between brand, product, and consumer. Providing innovative and immersive experiences, eXtended reality enhances customer engagement rate and Return-On-Ad Spend (ROAS).
When it comes to the in-store shopping experience, XR serves as a consumer's personal shopping assistant which displays information about where products can be found along with information that can benefit customers.
Redefined Customer Experience
Apart from benefiting customers, it can prove to be advantageous for retailers by empowering sales associates to provide superior and faster customer service. Moreover, it helps executives collaborate with customers on unique configurations and designs.
A case of VR-enabled merchandising is Kellogg's and Qualcomm. Both of them developed Virtual Reality (VR) solutions with embedded eye-tracking. This offer also provided a glimpse at a new reality for brands, retailers and consumer testing.
Through this tool, shoppers can walk through a realistic virtual store model, view the shelves, pick up and examine products virtually and place selections directly into their carts – A complete immersive virtual shopping experience, as in real time.
For post-purchase solutions, the technology can extend its support to customers through directions such as AR-enabled manual or AR step-by-step instructions for product assembly or trouble shooting or experiencing product variation.
Other industries implementing XR solutions – Automobile
Across the automobile industry, eXtended reality is making deep in-roads for online customers and also for those visiting brick-and-mortar shops. Automotive companies are looking forward to developing more personalized and customized marketing models to satisfy the customers by applying XR solutions.
Automakers are now able to offer augmented and virtual car configurators by displaying virtual test-driving, and virtual showrooms. Through this technology, customers can explore different features and options in a vehicle, to see a vehicle in different real-world settings via digitized showrooms.
A case in point: The most renowned automaker, Audi and its dealership network has deployed functional VR applications focusing on customer-consultation. One of the smallest Audi dealerships in London, Audi City showroom has implemented a VR-embedded solution.
It provides its customers with a realistic experience of their individually configured vehicle providing the details, a sales tool that has significant results and improved efficiency for the customer experience and influencing their purchase decision.
Other industries implementing XR solutions – Fashion
In fashion and accessories, XR allows shoppers to virtually try on products in real-time and provides an opportunity to customize their items in the show room and homes. All what is needed is a smartphone.
Such a comprehensive and seamless experience by brands caters to the great foundation of loyalty with the customers.
For example: Kate Spade (New York) has created a "Make It Mine" line of personalized handbags. Once the customer picks up a handbag, the XR display immediately detects it and exhibits it on an interactive touch screen.
From here, the customers can explore the variety of straps, colors, and patterns to create their own unique handbag. This personalization service was launched in 2018 and since then it's been thriving in an innovative arena.
With its Virtual Catwalk, (an app) aims to offer customers a new way of viewing its products in real life. Much like the above examples, Warby Parker, last year unveiled an XR tool that allows customers to try on frames in its app using augmented reality.
This technology imposes computer-generated images onto real-world imagery – which means the customer's face on camera with varied pairs of virtual Warby Parker glasses.
Other industries implementing XR solutions – Footwear
Apart from industries like retail, footwear stores have moved towards personalization. It offers customers virtual try-on experience to assure their product satisfaction before buying it.
With the combination of computer vision, data science, AI/ML (Artificial Intelligence / Machine Learning) and recommendation algorithms are utilized to gauge the entire orientation of the user's feet and guide with the perfect fit for each shoe style.
Moreover, the intelligent system can store the foot dimensions in a user's account for future shopping (online and in-store) as well. Such app-based solutions have been implemented by Nike and others.
Other industries implementing XR solutions – Groceries
When it comes to grocery retail, eXtended reality has proved to be a game-changer. People who struggle to locate specific items in large department/grocery stores can use the technology for simple and reliable in-store navigation.
It has been predicted that the indoor location market including indoor navigation and data tracking will be worth US$ 41 billion by 2022.
For instance, Lowe's implemented an in-store navigation app in 2017 which leverages AR indoor mapping and utilizes motion-tracking technology to provide users with efficient directions while navigating them to their desired place in real-time.
This boon of XR saves a lot of time and energy of customers while augmenting their overall shopping experience. Consumers can avail its ingenious benefits sitting at home, over e-commerce platforms, while relaxing in their recliners.
As the e-commerce players started enhancing their services to customers online using XR applications; IKEA has used eXtended reality, specifically AR, to give customers a preview of its furniture in their homes.
Consumers can tap into their smartphone camera to show the space where they desire to place the item and a 3D content of the furniture will provide them the clear idea of its placement or reposition the 3D content on the floor to decide on the ideal positioning of the furniture.
Other Directions
CoverGirl opted for same approach to attract customers online. Using their mobile cameras, the customers can apply beauty products over a live image of their face.
The brand facilitates customers with advantage to try on different makeup combinations, sparing their actual skin.
It also saves time that gets wasted in applying makeup in reality. Shopify is an e-commerce platform that offers innovation of XR.
Through Shopify AR, brands can leverage unique ways to experience their products while showcasing their realistic versions.
With this feature, consumers can understand the actual size or scale of the items which will subsequently help brands increase engagement and improve purchase-confidence.
AugRay's eXtended Reality Serves Retail Industry
AugRay has always been re-innovating and revamping itself with new emerging technologies while developing immersive platforms for better customer engagements.
We have introduced various XR-powered platforms across the retail industry to help brands and customers develop better relations and shopping experiences.
AugRay's WebAR platform allows retail industry brands to connect with their customers and provide 3D product visualization and specs across e-commerce and brick & mortar.
The platform also helps create an omni-channel journey with an immersive experience at multiple touch points bridging the gap for online and in-store shoppers.
The WebAR platform has all images of products that can now be converted to provide XR experience using WebAR.
This amplifies sales and enhances customer engagement while providing a faster and seamless experience to customers.
From online click-throughs to conversions and from store walk-ins to increasing the dwell-time on the product, XR-enabled platform is well positioned to impact the sales results and with measurable intelligence and great insights.
The marketing efforts are more efficient in saving cost and improving results. In space of brick & mortar, AugRay's RetailXR continues to play an important role in providing unique in-store shopping experience to customers.
AugRay's Interventions
This offering of eXtended reality solutions to retailers enhances their ability to engage with their customers, by creating an in-store immersive experience.
Such experiences potentially include visual & virtual display of the products and specifications to try-on's and in-store navigation to find product information to avail best deals & rewards.
This subsequently creates a great impact on the customer which he carries home to further engage virtually and increases the probability of product consideration, reducing the time in making a buying decision.
RetailXR's gamification and reward platform create omni-channel gamification of customers' product experience and brand campaigns in an effort to enhance sales and retain customers with loyalty points & rewards.
AugRay's Directions
The technique also enables brands to engage their customers with tailor-made gamified campaigns to tell their brand stories as part of the game and engage users for a longer duration increasing the brand recall factor and or to pursue in considering the product by rewarding mechanism.
Retail industry XR features helps up sell and cross sell business products and reengage consumers at their next buy cycle and increases customer retention and advocacy.
Branded Gamification takes it to next level in providing unique, personalized and emotional games such as virtual buddy to consumers which can be taken home and trained.
This virtual buddy is a hook for consumers to engage in product consideration, retention, creating repeat customers and creating internal influencers who would entice decision makers to consider a buy or become external influencers to advocate.
AugRay's XR capabilities transform mobile games into a seamless playground where experiences change depending on the place, persona, and context.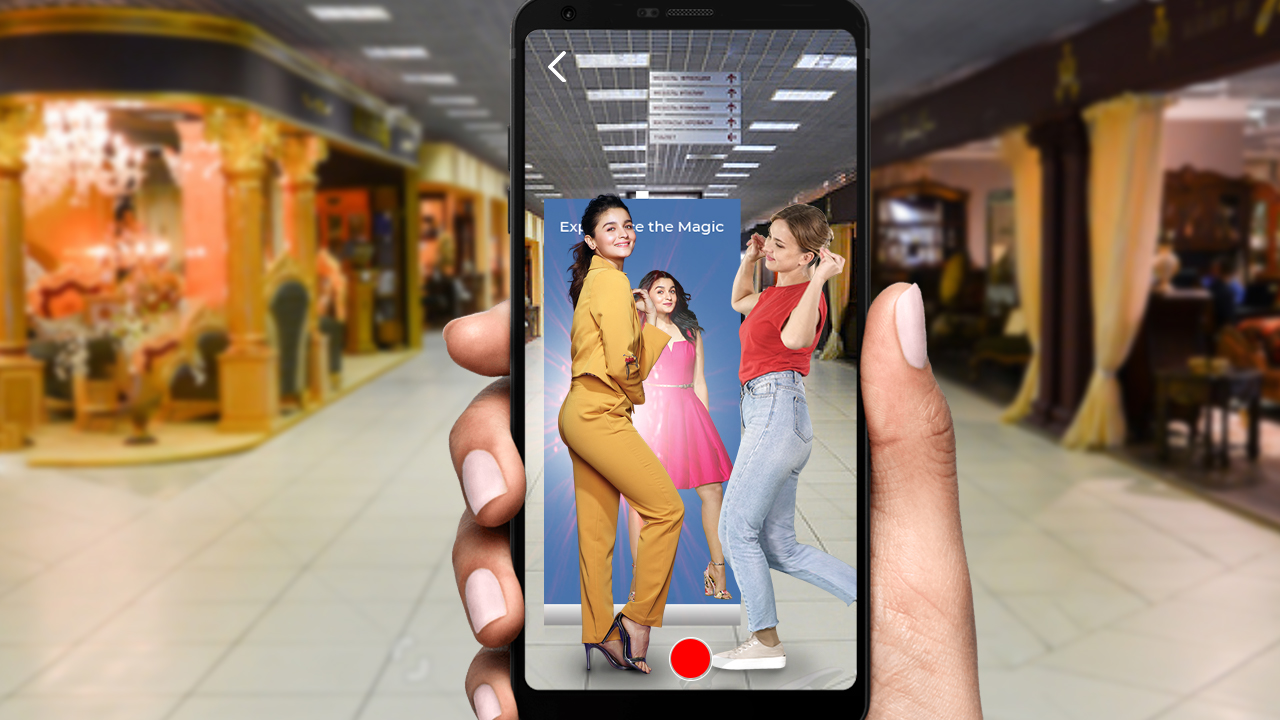 In order to drive exciting customer engagements, its RetailXR platform provides an immersive experience to the audience like playing football virtually with favorite stars and taking a selfie together and endless opportunities by amplifying the returns on celebrity endorsements when possible and much more
AugRay's Solutions
We work on several different customer excitement experiences. All are based on XR (Extended Reality) technologies. These are
Showcasing how your products look like: Product Visualization
Creating virtual experiences for your customers, like they are playing their favorite game: Exciting Engagements
For retail stores, customers can decide their purchase through virtual experience: AR-Aided Retail
For E-Commerce companies, we provide solutions that can enable your customers to see how it feels before buying the product: Online Product Fit
For travel companies, we bring to life, the real-world experience when they take the tour: Wander VR
For gaming companies, our product will aid your customer to have a customized engagement based on the levels of interaction: Virtual Buddy
Mission: Enhance revenues of 1 million businesses using AR, VR and MR technologies
Vision 2030: Set up cost-effective mediums in any Digital platform to enhance the virtual experience of all consumers in any business to realize the actual real-world solution
You can check out our Blogs for other details or reach out to us.