Virtual Reality is now a trending topic in the gaming and other industries that have benefited from this technology.
Virtual reality is often defined as, "realistic and immersive simulation of a three-dimensional environment, created using interactive software and hardware and experienced or controlled by the movement of the body".  Any person with a virtual reality headset can move around the artificial world and interact with the 3D creatures that appear on the screen or can be seen through the goggles that they are wearing.
The early years of Virtual Reality gaming:
Since mid-1990s much virtual reality heads mounted displays were being released for gaming purposes. This clearly shows that virtual reality is not a new technology, only its usage and experience are being redefined now. Some of the successful examples of the early usage of Virtual reality in gaming are Virtual Boy developed by Nintendo, i-Glasses developed by Virtual I-O, VFX1 Headgear developed by Forte Technologies. Other modern-day examples of VR for gaming include the Wii Remote, the Kinect, and the PlayStation Move/ PlayStation Eye. All these devices track and send the motion input of players to the game consoles.
The developments of Virtual Reality gaming:
The gaming industry was slowly developing then with a touch of virtual reality here and there. But gamers were demanding more. And this brought about the release of VR Headsets. The new generation VR Headsets came to the market by early 2016. Oculus Rift is a very well known VR headset, developed by Oculus VR, an American technology company. The release of the VR headset brought about a massive change and revolution in the gaming industry. People were excited to experience new things, especially the 3D creatures in the computer-generated an artificial world.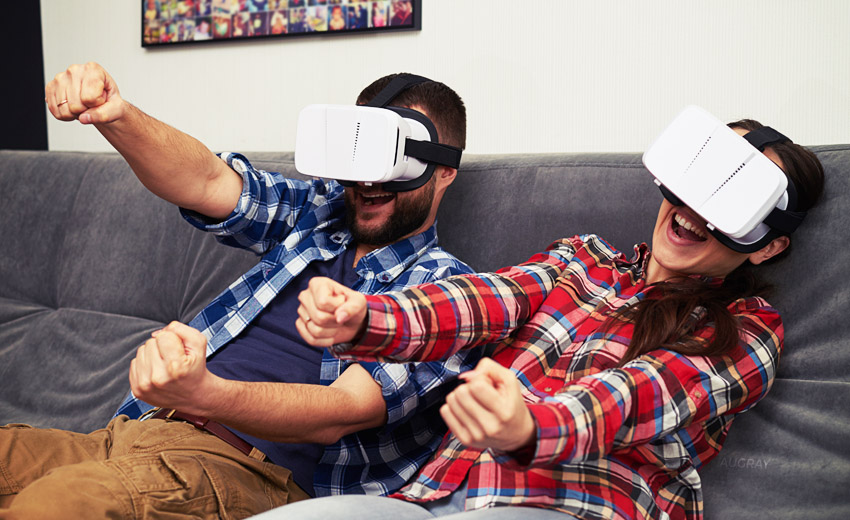 Other popular names in the category of headsets are PlayStation VR developed by Sony, HTC Vive- a VR Headset that is developed with the partnership of Valve Corporation and HTC and is capable of tracking the exact position of its user. By mounting the VR headsets people can easily to the different world and interact with the creatures of that world. Microsoft's HoloLens, Google Cardboard is an addition to this list.  Some of these devices offer room-scale VR capabilities while the others are designed in such a way that they will be used in a seated or stationary position. Besides entertainment, VR games are also used for various types of training and also for virtual reality therapy.
Some of the popular virtual reality games include Arizona Sunshine, Superhot VR and much more.
Ending Note: As gamers are getting more excited about virtual reality games, the gaming industry for sure can see a bright future for virtual reality gaming. Get, set and be ready to explore the artificial world of virtual games!
Do you have some gaming idea or other business ideas related to AR and VR? Hurry up and contact AugRay to get the best solution required, and redefine your brand experience today!