The Augmented Reality (AR) and Virtual Reality (VR) industries have penetrated literally every B2C industry and revolutionized them. The food and beverages industry is always at the forefront of technology and has been quick to adapt to the tirade of glorious changes brought forth by AR and VR.
From making food visually appealing, to helping people know the nitty-gritty details about their food, the applications of Mixed Reality in the Food industry are many.
Here are some delectable offerings of AR and VR, that make food for thought and vision more than just another phrase!
AR Based Menu cards: A Feast for the Eyes!
Humans are visual beings. We understand and enjoy things better when we see them either in a video or through reality, instead of simply reading about them.
An AR based Menu card shows 3D pictures of food in minute detail to capture the interest of the customer and tantalise their taste buds. The other good part about deploying an AR based menu is that people who are unfamiliar with the language (such as tourists) can visually see the menu and make food choices based on it.
Image Recognition and VR based Audio Assistance for Menus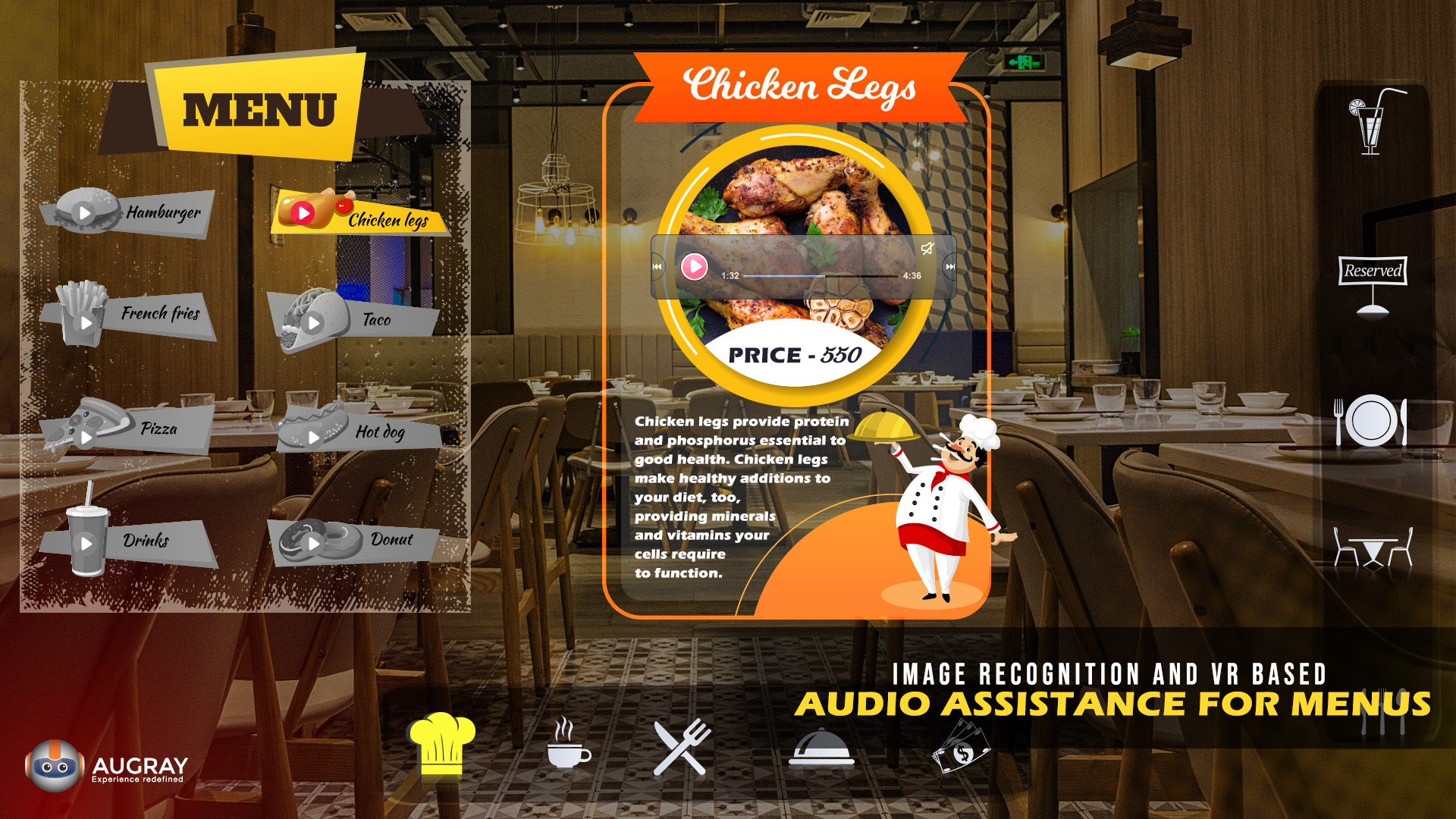 15% suffer from some sort of disability at any given point of time. A fifth of them experience visual impairment.
Reading the menu and making an order can be cumbersome or even impossible for these people. A VR based assistant system either zooms into the menu helping people read or recognises text and converts it to audio to enable the customer to make an order without the assistance of others.
AR-based Games to Engage Customers
In the past many restaurants had ball pits and play areas to engage children. However, with real-estate becoming a premium, restaurants are focusing on the food alone, leaving many young customers bored. As a result, restaurants experience lesser footfall as many parents are weary of visiting restaurants which do not have options to keep their kids engaged.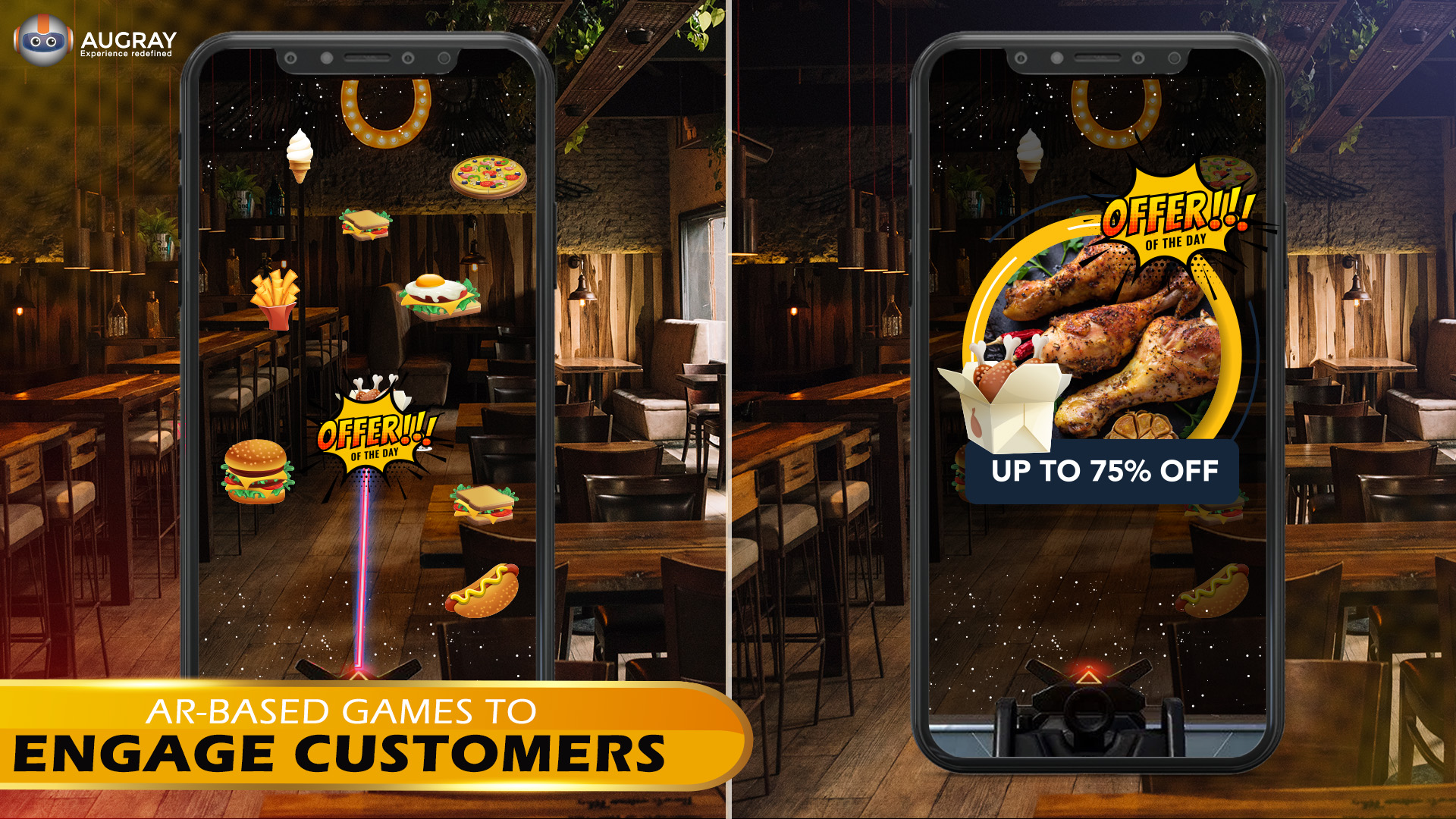 Augmented Reality had the ability to attract the attention of customers across age groups. Providing customers an AR based game while they wait for the food at restaurants can keep customers, especially children engaged. This ensures a happy dining experience for the whole family.
QR Enabled Options
The COVID-19 pandemic has made people acutely aware of touching objects like cash and menu cards. Providing QR codes on the table enables customers to scan the QR Code, wirelessly access the menu, place orders, and even pay wirelessly.
This system is particularly useful in these pandemic times, where everyone wants to avoid unnecessary contact with objects that come in contact with many others.
Let Customers be their Own Chefs
Sell experiences, not products.
Customers love it when they are given the chance to interact and engage with their food. A few years ago, a pizza chain let customers design their own pizza. Customers could virtually add toppings to the pizza using an AR App and choose their crust and cheese while watching the pizza take life before their own eyes.
This initiative proved to be a huge success for customers loved the fact that their opinions were being heard and thoroughly enjoyed the personalisation offered to them.
The Bottom Line : The Cherry on the Cake
The sales of desserts goes up by over 25% when customers see a 3D picture of the dessert on an AR enabled tab!
AR and VR have the potential to transform the experience of dining and make it more than just another product or service. Providing your customers what they want by leveraging mixed reality goes a long way in creating an audio-visual feast!
References:
https://aglowiditsolutions.com/blog/ar-vr-in-restaurants/
https://yeppar.com/augmented-reality-restaurants.html
https://upserve.com/restaurant-insider/the-future-of-restaurant-menus-augmented-reality/
https://www.unitear.com/blog/augmented-reality-for-restaurants