2015 marks fifteen years of providing IT services and solutions and cutting edge technology to some of the world's most well-known and respected organizations, from Fortune 100 companies to small and medium size businesses.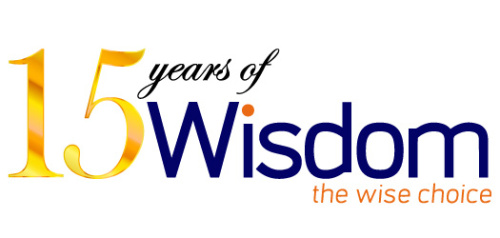 Brookfield, Wisconsin, November 3, 2015 – Wisdom InfoTech Inc., a leading provider of IT services and solutions, is pleased to announce that 2015 will round out the first 15 years in business; and they marked the occasion by unveiling a commemorative logo.  Since opening their doors in November 2000, Wisdom has been a trusted partner and integral part of building and maintaining the IT infrastructure for many of the world's leading brands from Shanghai to San Francisco and the world over.
Wisdom InfoTech Inc. was founded by software engineer Suresh Thankavel in November 2000.  Thankavel quickly grew Wisdom into an award winning organization.  From 2005 through 2006 Wisdom was ranked as one of the fastest growing top 50 companies in the Metro Milwaukee area: earning second place on the list for 2005 and first place in 2006.  In 2005, Thankavel acquired Noetic Solutions, an offshore software and development firm. Noetic Solutions later changed names and became a division of Wisdom InfoTech.  In 2007, the company earned the honor of being ranked as one of the fastest growing companies in the United States by Inc. 500: ranked number two on the top companies in the Greater Milwaukee area list and number twenty on the top companies in software list. For three consecutive years from 2007 through 2009, during one of the most recent and notably tumultuous economic times in the world, Wisdom earned a spot as an Inc. 5000 Company.  More recently in 2012, Wisdom further expanded services into the public sector.
Today, Wisdom continues to grow market share in the IT services and solutions industry and has also continued to diversify and growing other sectors.  In 2014, Wisdom soft-launched an Augmented Reality application called AugRay and quickly earned the trust of leading global brands and agencies like Coca-Cola, Thums Up, MRF, Wizcraft and more.  In September 2015, AugRay expanded operations and opened additional offices in India (Gurgaon, Mumbai and Bangalore). Brookfield, Wisconsin continues to serve as the headquarters for Wisdom and its growing subsidiaries, as it has since opening their doors in 2000. Today Wisdom has employees in thirteen US states and the top four cities in India.
"Over the past 15 years the state of the IT services and solutions industry has changed drastically," said Thankavel.  "What started as a highly saturated market of IT service providers became just a handful after the economic downturn in 2008.  Those of us who weathered the storm knew that we had to evolve with the industry or risk becoming obsolete.  Though there are many factors which have contributed to our success over the years, none have been more meaningful than the commitment and contributions of our valued employees and their steadfast commitment to provide the highest quality service and solutions by always putting the customer first. That has been the cornerstone of our success."  Thankavel continued, "We recognize that the success of Wisdom and our subsidiaries is directly proportionate to our client's success.  It is a value we stand behind and a value that will continue to stand the test of time."